Where
Oregon Public Library
Stop-Motion Animation Workshop
In this hands-on workshop, local filmmaker Frank G. Caruso will cover:
Basic techniques and equipment
Devices and apps
Storyboarding & storytelling
Set creation
Bring your own device if you want to easily save your work. Otherwise there will be iPads available to use during the workshop.
For ages 10-17. Registration is required. Please contact the library about registration.
Stop-Motion Workshops are part of the Stories in Motion grant. Seven Dane County libraries are participating in the project which is made possible through a grant from Beyond the Page, the Madison Community Foundation, and the National Endowment for the Humanities.
Image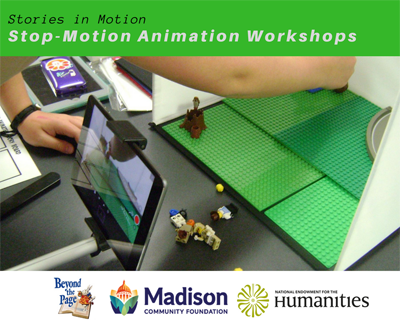 Sponsoring Partner(s)
Beyond the Page, Madison Community Foundation, National Endowment for the Humanities