Where
Middleton Public Library
Image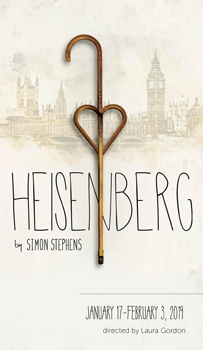 Play Club is part book club, part performance experience.  This program presents the opportunity to explore a play in depth through guided discussion, performance of scenes by actors, and discussion with director and actors. Participants will gain a new perspective on what makes a play work and how it is brought to life on stage.
Participants will sign up at the library for Play Club and will receive a copy of the play, Heisenberg, by Lisa Simon Stephens, to read prior to Play Club.  
At the Play Club event, a representative from Forward Theater will lead the discussion, and two actors will read scenes from the play. The discussion includes not just the themes and issues contained in the script, but also, how the play will make the leap from the page to the stage. Play Club discussions are lively and far ranging, and attendees are given a special discount code for tickets to the play discussed.
Program lasts approximately 90 minutes.
HEISENBERG by Simon Stephens
A chance encounter between Georgie (flirtatious, mysterious) and Alex (a much older man) starts with a kiss that changes both of their lives. What does Georgie want? And can she be trusted?
These two strangers, set adrift by life and loss, embark upon a fascinating game of cat and mouse that changes course with each new revelation.   There are many possible lives we can live – but each choice we make alters the journey.
 
For more information about Forward Theater visit: http://www.forwardtheater.com/onstage.
A special thank you to our sponsors: Beyond the Page, Madison Community Foundation, National Endowment for the Humanities, and Dane Arts.
Sponsoring Partner(s)
Beyond the Page, Madison Community Foundation, National Endowment for the Humanities, Dane Arts