Where
Middleton Public Library
Image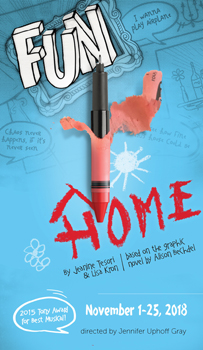 Play Club is part book club, part performance experience.  This program presents the opportunity to explore a play in depth through guided discussion, performance of scenes by actors, and discussion with director and actors. Participants will gain a new perspective on what makes a play work and how it is brought to life on stage.
Participants will sign up at the library for Play Club and will receive a copy of the graphic novel, FUN HOME, by Alison Bechdelto read prior to Play Club.  
At the Play Club event, a representative from Forward Theater will lead the discussion, and two actors will read scenes from the play. The discussion includes not just the themes and issues contained in the script, but also, how the play will make the leap from the page to the stage. Play Club discussions are lively and far ranging, and attendees are given a special discount code for tickets to the play discussed.
Program lasts approximately 90 minutes.
FUN HOME  by Lisa Kron and Jeanine Tesori
Graphic novelist Alison Bechdel's father was a volatile and brilliant man whose secrets defined her family and her life.  Bruce taught high school English, ran the family's funeral home business, and was obsessed with restoring their old house.  When he dies unexpectedly, Alison digs deeply into her childhood memories to try and understand how his choices may have influenced her own.  
This unique, funny and heart-shattering new musical zig-zags across Alison's past and present as she tries to make sense of her parents' lives, her own sexuality, and how she maps the terrain of her adult world.

For more information about Forward Theater visit: http://www.forwardtheater.com/onstage.
A special thank you to our sponsors: Beyond the Page, Madison Community Foundation, National Endowment for the Humanities, and Dane Arts.
Sponsoring Partner(s)
Beyond the Page, Madison Community Foundation, National Endowment for the Humanities, Dane Arts