Where:
Cambridge Community Library
In the late nineteenth century, a little girl struggled out of the depths of fear. At age of two, Helen experienced a life-threatening illness. She was plunged into a dark, silent world. Anne Sullivan, a determined young teacher would find the key to unlock Helen's prison. Through Anne's diligence and perseverance, Helen would become a world-renowned speaker and advocate for the disabled.
This program, originally commissioned by the Lion's Club International, Northern Illinois Division, begins with the blind and deaf Helen being led to the podium where she recites excerpts from the 1925 speech Helen gave to the International Lion's Convention. The program continues in third person as Jessica tells the audience of Helen's life and experiences.
Performance by Jessica Michna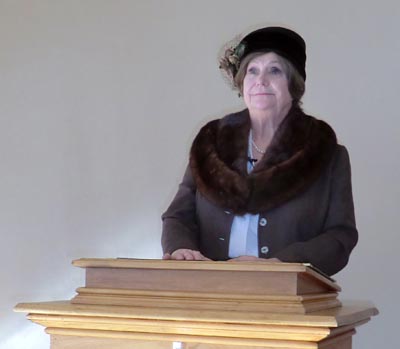 Sponsoring Partner(s):
Cambridge Community Activities: Actively Aging, Beyond the Page, Madison Community Foundation, National Endowment for the Humanities