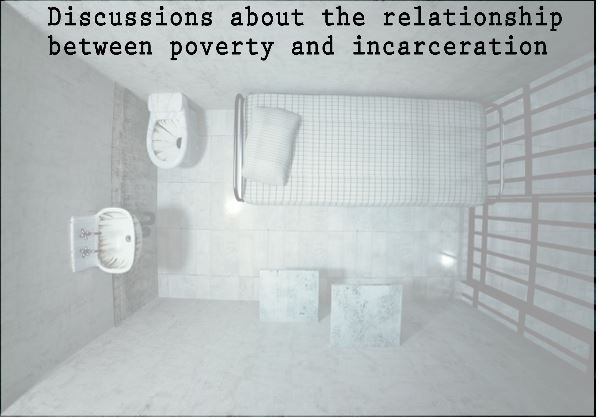 Is there a predatory system of law enforcement in place that traps low-income people in never ending cycles of fines, debt and jail time? Why are poor people targeted and held in captivity for stringent enforcement of minor offenses in this wealthy nation?
This project focuses on the philosophical exploration of applied ethics in regard to the issues of mass incarceration in the United States since the 1980s, the modern day version of debtors' prisons, the validity and effectiveness of policing and court procedures in low-income neighborhoods, and a comparison of incarceration systems worldwide.
Punishing the Poor: Criminalizing Poverty will feature a series of presentations by knowledgeable speakers:
Restorative Justice: Join the Movement.  Ron Johnson's, current Coordinator of Dane County's Community Restorative Court, presentation lays out the basic tenets of restorative justice and its application as it relates to resolving disputes in communities and between individuals. The presentation will include the restorative justice application as it relates to the criminal justice system, and the cultural history of restorative justice as a healing force derived from Native American culture. He will talk about the ethical implications of restorative justice, and contrast the traditional criminal justice system with the restorative approach. This presentation will stress the importance of community involvement in the practice of restorative justice.
Goodman South Madison Library - Thursday, March 9, 6pm
Middleton Public Library - Tuesday, April 11, 7pm
Understanding Race and Criminal Justice in Wisconsin will provide graphical displays of trends in imprisonment and arrest in Wisconsin including comparisons between Wisconsin and the rest of the country and comparisons of different areas in Wisconsin. Pamela Oliver will discuss the various explanations for these patterns in the racial-political history of Wisconsin and the nation and will invite the audience to ask questions and contribute their ideas. Discussion topics will include specific policies that have had effects as well as the effects of conscious or unconscious racial bias and the indirect racial consequences of seemingly race-neutral policies and practices.
Stoughton Public Library - Thursday, March 16, 6:30pm
Verona Public Library - Tuesday, March 28, 7pm
A Multidisciplinary Exploration of the Impacts of Incarceration on Individuals, Families, and Communities will feature a panel format of graduate scholars and Center Staff from the UW-Madison School of Human Ecology to discuss the impact of incarceration, and the historic phenomenon of mass incarceration, on individuals, families, and communities. With perspective from various Human Ecology departmental areas, themes of designed environments and incarceration settings; children and families of incarcerated individuals; the historic impact of mass incarceration on particular communities; health impacts of incarceration; activism surrounding the incarceration phenomenon; and ways that the community and scholarship can make positive change -- will all be explored. Audience participation will be welcomed.
Monona Public Library- Tuesday, April 4, 6pm
Pinney Library - Tuesday March 7, 6pm
Paying the (System's) Bills describes how as government agencies around the country faced dramatic budget cuts in the wake of the fiscal crisis, many turned to new sources of revenue to make up for budgetary shortfalls. One of the primary sources has been people processed by the criminal justice system. Many convicted people find themselves facing not only jail or prison sentences, or terms of community supervision, but also an ever-increasing host of fees from co-payments for representation and court-required treatment programs, to flat fee supervision fees and court assessments. The cumulative effect of these legal financial obligations often creates unintended consequences, some of which deserve greater attention by the public and policymakers. This presentation uses field work from several counties throughout the United States as a lens for exploring the effects of requiring those punished by the criminal justice system to also pay an increasing share of its operating costs. Cecelia Klingele, UW-Madison law professor, will present.
Waunakee Public Library - Tuesday, March 14, 7pm
Oregon Public Library - Tuesday, March 21, 6:30pm